What to Write in a Birthday Card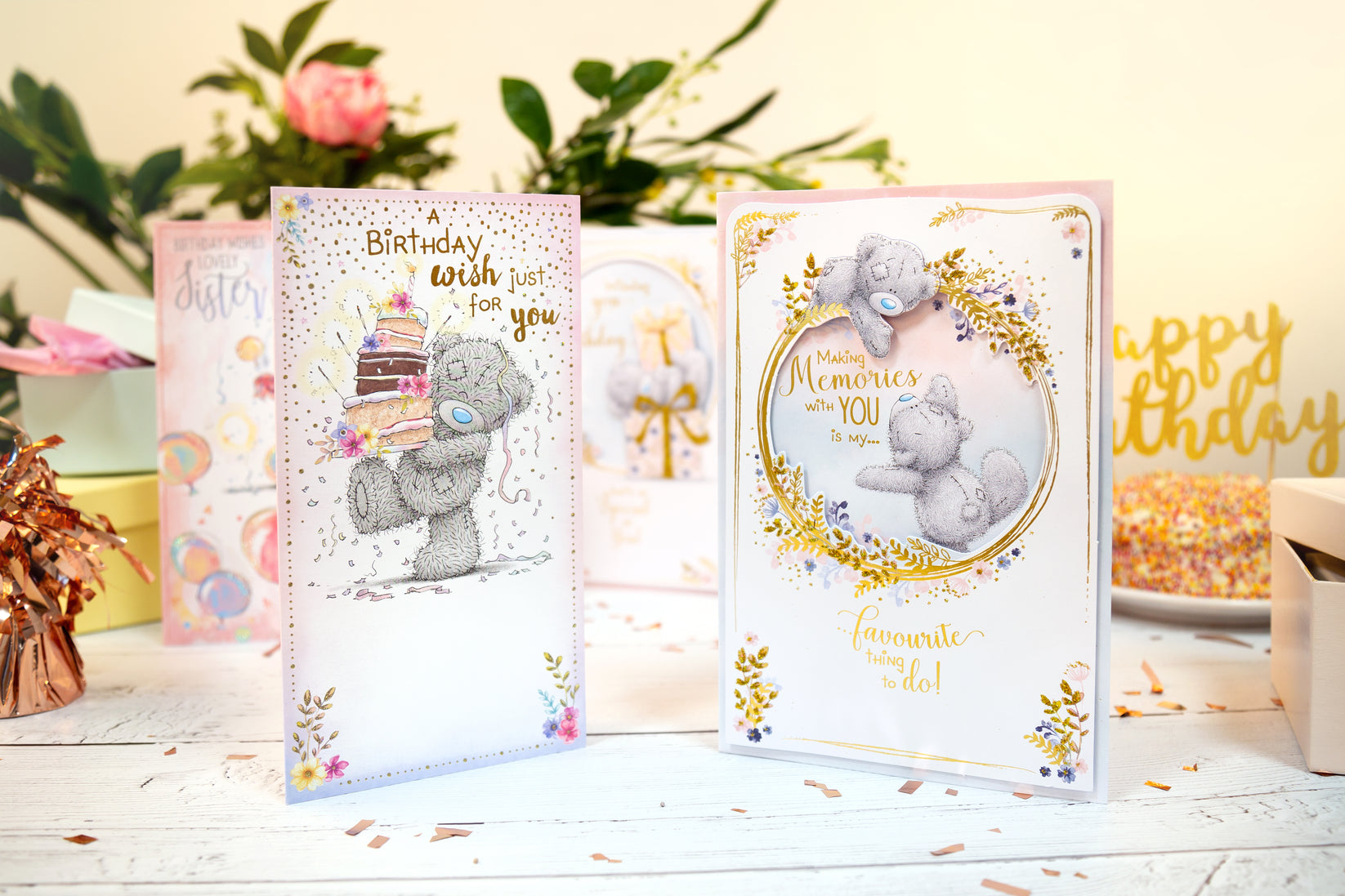 Hooray for birthdays! There's not much that's more special than receiving a special birthday card, that's been hand-picked just for you, with a handwritten message from a close friend, member of the family or loved one. If you're going blank when it comes to birthdays, we've create a list of our favourite birthday card greetings, from simple messages, funny messages and messages for those important milestones.
Simple Birthday Messages
A very Happy Birthday to my favourite person
Let's have lots of cake, fun, happiness and laughter as we celebrate you!
I hope your birthday is every bit as lovely, sweet, and wonderful as you are!
When life gives you birthdays, eat cake!
There's no one who deserves to be celebrated more than you
Cheers to you! Have the most wonderful birthday possible!
Sentimental Birthday Messages
A very special person deserves an equally special day. Have the most wonderful birthday
May each day of the year ahead be as wonderful as you are
Lots of people will be thinking of you on your special day, and I want you to know I am one of them
You deserve the very best birthday because to me, you are the very best
You brought love, joy and happiness into my world and this birthday I will bring all that and more to yours!
I hope you get all the best presents today, because I get the gift of you every day of my life!
Funny Birthday Messages
I wanted to get you a special birthday gift, but all I could afford was this card... Enjoy!
You're such a hard person to buy a gift for... so I got you nothing! Happy Birthday
Did you know people who celebrate more birthdays live longer!
Another year older... and yes you look it! Happy Birthday
Smart, good looking & funny... but enough about me!
Just remember, the more candles on the cake... the bigger the cake!
Birthday Quotes
"Count your age by friends, not years. Count your life by smiles, not tears." - John Lennon
"With mirth and laughter let old wrinkles come." - William Shakespeare
"Every birthday is a gift. Every day is a gift." - Aretha Franklin
"You don't get older, you get better." - Shirley Bassey
"Youth has no age" - Pablo Picasso
God gave us the gift of life; it is up to us to give ourselves the gift of living well." - Voltaire
Milestone Birthday Messages
13th - You're a teenager at last! Enjoy this special birthday and every moment of your teens!
16th - Happy Sweet 16! Celebrate, have fun and enjoy this wonderful time in your teens
18th - This is adulthood, Happy 18th Birthday! If you don't have fun when you're young, you'll have nothing to smile about when you're old!
21st - Live life to the fullest and enjoy every moment! Have an amazing 21st birthday!
30th - Here's to the next decade, of fun, laughter & making more memories! Happy 30th birthday
40th - Welcome to your thriving 40's, the best is yet to come! Have an amazing day!
50th - You're so fabulous at 50! Here's to the next 50 years, Happy Birthday!
60th - To someone who will be forever young, have an amazing day celebrating the wonder that is you! Happy 60th!
70th - Continue to be the amazing, funny, inspiring person you've been for the last 70 years. Happy Birthday
80th - Wishing you a wonderful 80th birthday. May it be as memorable as you are!
90th - If things get better with age, you're nearing perfection. Have the most wonderful 90th birthday!
100th - How lucky we are to be celebrating 10 decades of you! You deserve to have the most fantastic day today, Happy Birthday!
Romantic Birthday Messages
Happy birthday to the person who makes me feel like the luckiest person alive every day
Every day, but especially today, I am thankful to know & love you. Excited to spend another year with you.
Happy birthday to the love of my life! You deserve everything you receive today & so much more!
How lucky am I to know you, celebrate you & love you! Happy Birthday
It's always a treat to wish a happy birthday to someone I love so so much
One day a year isn't enough to celebrate someone as special as you.
Belated Birthday Messages
Know that I was thinking of you on your special day. Wishing you the best year ahead
Even though this is late, it's never too late to wish you the best of everything always
There's a very good reason why this birthday wish is late. I forgot. I'm sorry! Hope your day was terrific.
I didn't really forget your special day…I just wanted the happiness to last a little longer.
I can't believe I missed your birthday... because you're too special to ever forget
Happy belated birthday. Consider this a rain-check for celebrating together in person soon!