Staying Cool This Summer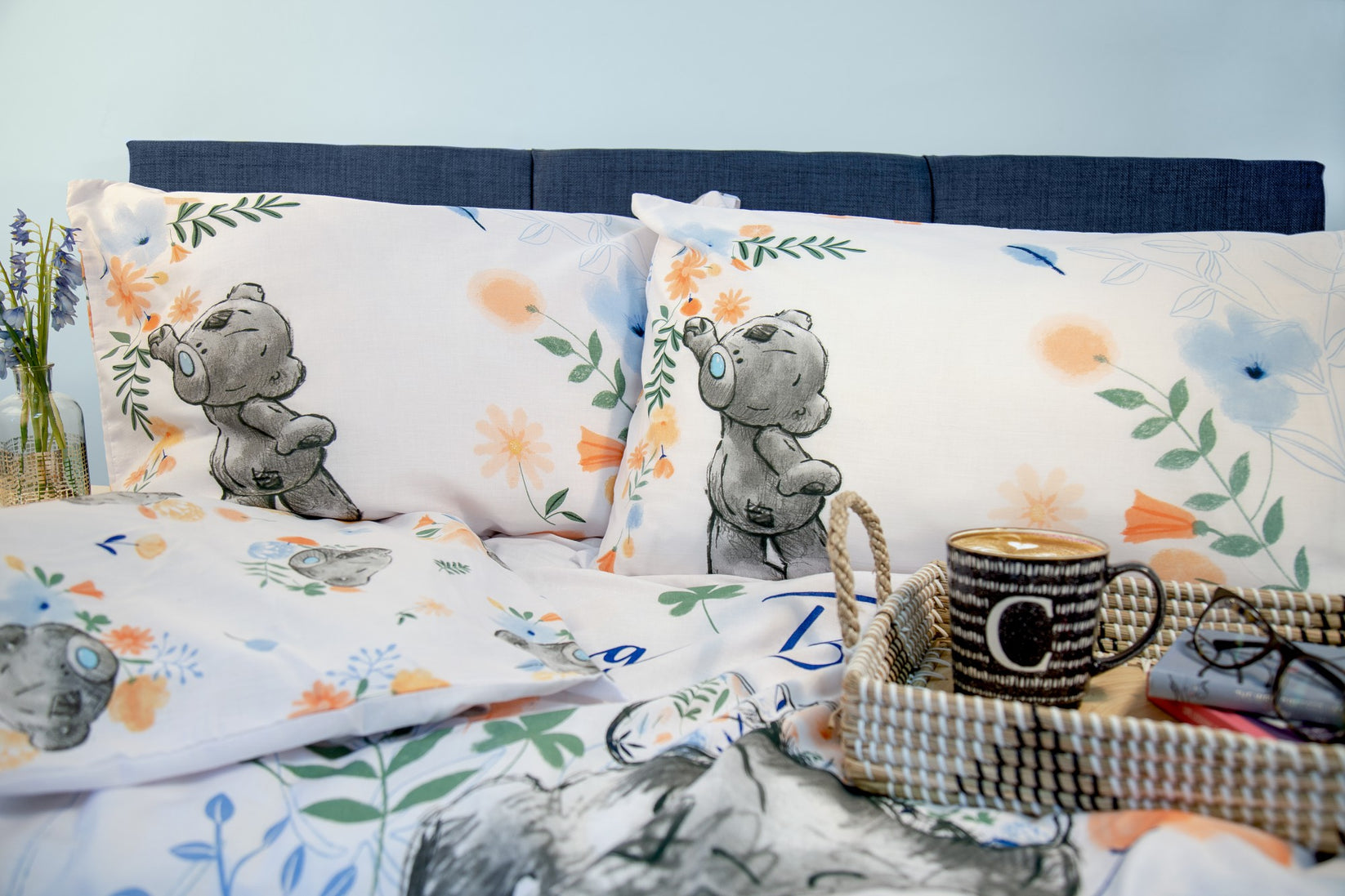 Summer is all about keeping cool at night when it's hot and then feeling toasty when those typical UK showers come our way!
Our Me to You bedding range is so adorable and is all about 'Being Kind' just like Tatty Teddy who has captured millions of hearts all over the world.
So just how can you stave off those sweltering nights?
Hydration
It is obvious but it's amazing how many of us forget this one but don't gulp it down just before bed! Have water to hand on the bedside table though, who wants to head to the kitchen in the early hours?
Fresh Air
Open windows are a must. They often get shut during the day due to noise so ensure you remember to open before bedtime, preferably a few hours' before retiring. Opening doors and windows in rooms means the air can move through the house.
Bedding
Your bedding is crucial yet we all forget to swap the winter duvet for the summer one or keep the throw on the bed because it looks pretty.
Bedding containing cotton is the best choice for your duvet cover as it helps your bed stay cool which means you do too.
Light colours are best and the simple yet classic white and pastels of our designs will certainly help.
Cool Off
Taking a cool shower before bed can help you relax as well as feeling nice and clean in your crisp bedding. Some find freezing a 'hot' water bottle or even freezing the bedding can cool them down. Makes sure the bedding is in a plastic bag and don't leave it too long in the freezer!
Using a fan creates a lovely breeze and hanging a damp (not soaking wet) pillowcase near it, not on it, will bring pleasant relief. Whilst we all love a snuggle with our partners, the height of summer means too much body heat in one place makes the issue worse so keep your distance!
Cotton PJs
Cotton nightwear is definitely best. On those nights when it's warm but raining, you can snuggle up in your cool pyjamas and Tatty Teddy bedding waiting for the storm to pass. Being inside when it's pouring outside brings its own 'warmth' and the soft fluffy grey teddy bear with the famous blue nose and patches brings its own comfort.
We offer single and double covers with the charming quote 'Being Beautiful is Being Kind' and remember, being kind to yourself is just as important as being kind to others. The other side is full of cute Tatty Teddy faces so you choose what you want to see!
However you choose to keep cool or keep cosy, this cuddly bear offers a timeless message of love, happiness and friendship which is just what one needs at bedtime. Sleep tight!
Perfect For Summer Slumber