5 Hot Chocolate Recipes for a Cosy Night In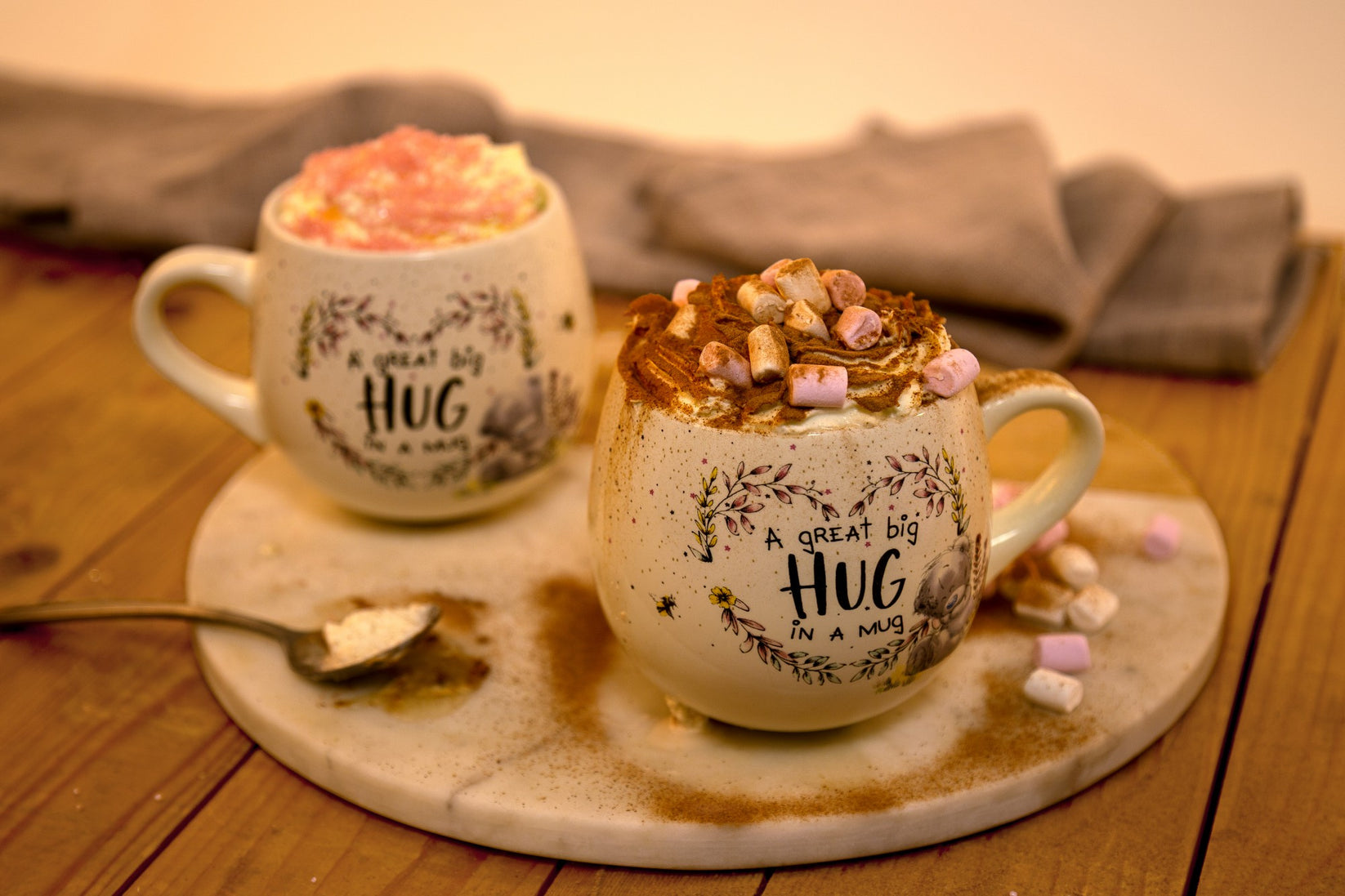 Nothing beats a steaming mug of creamy hot chocolate on a cold winter's day especially when it's homemade.
To give you some inspiration, we've pulled together a list of our favourite hot chocolate concoctions from a rich, velvety classic to the quirkier and more creative.
1. Classic Hot Chocolate
We start with a classic and always delicious hot chocolate. For us this needs to be rich, chocolatey and with a mountain of cream on top and a scattering of our favourite toppings.
To make it extra decadent, we've swapped hot chocolate powder for actual chocolate and used whole milk rather than semi-skimmed. We've added a sprinkling of teeny-tiny marshmallows and a dusting of chocolate powder.
You will need...
450ml whole milk
70g 70% cocoa chocolate, finely chopped or grated – the higher the cocoa content, the richer your hot chocolate will be!
75ml single cream
Your favourite whipped cream
Tiny marshmallows – lots of them!
Measure your milk to half of the size of your mug, pop into a pan and pop on the hob over a medium heat, stirring constantly. Once warm stir in your chunk of chocolate and continue to stir. Keep the milk moving until it's piping hot and all your chocolate has melted. At the last-minute stir in your cream until it gets nice and thick.

For a super frothy finish give your chocolate a last-minute whisk before pouring into your mug. Add a couple of marshmallows into your mug and top with whipped cream. Sprinkle some leftover chocolate dust on top and add even more of your tiny marshmallows. If marshmallows aren't your favourite, then try your favourite biscuit crushed up and scatted onto the cream – yum!
2. Salted Caramel & Popcorn Hot Chocolate
This one is perfect for those with a seriously sweet tooth and want something that looks impressive! You can either use a shop bought caramel sauce or if you're feeling clever you could make your own!
You will need...
400ml whole milk
50g dark chocolate
1 tablespoon caramel
½ teaspoon sea salt
Your favourite whipped cream
Caramel sauce
Sweet popcorn
Measure your milk into your mug, leaving space for cream on top!
Warm up on medium heat and slowly stir in your dark chocolate, a teaspoon of caramel sauce and a pinch of salt.
Take off the heat and whisk rapidly before pouring into your mug
Top with lots and lots of whipped cream, a handful of sweet popcorn and smother with caramel sauce! Perfect
3.Very Vegan Peppermint Hot chocolate
This diary-free delight is just as tasty, thick and creamy as our classic recipe with a minty twist. Make sure that you check the label on the chocolate before using to ensure it is vegan friendly.
You Will Need...
½ mug of almond milk
½ mug of coconut milk
75g vegan dark chocolate
A couple of drops of peppermint extract
Combine your two milks into a glass and pop onto the hob to boil at a medium heat
Chop your chocolate into small chunks and stir into the warm milk.
Once piping hot take off the heat and add a couple of drops of peppermint extract.
Pour into your mug and enjoy under a cosy blanket on the sofa!
4.Gingerbread Hot Chocolate
Full of spice and all things nice! This recipe is perfect for cosy nights in, especially when it's wet & windy outside.
You Will Need...
A mug of whole milk
32g unsweetened good quality cocoa powder
32g brown sugar
½ tablespoons biscoff spread
½ teaspoon ground ginger
½ teaspoons cinnamon
Your favourite whipped cream
Miniature marshmallows
Mini gingerbread men
In a large saucepan combine the milk, cocoa powder, brown sugar, Biscoff spread, ginger and cinnamon.
Cook over medium heat, stirring occasionally until the sugar and Biscoff dissolve completely. Be careful not to overheat or boil.
Leave to heat for about 5 minutes, just until the mixture is steaming and is warmed thoroughly. Try a little bit with a spoon to check the flavour.
Remove from heat and pour into your mug leaving plenty of room for cream!
Top each mug with whipped cream, shake some cocoa powder over your creation and finish off by popping a couple of tiny Gingerbread Men on top!
5. Pink Popping Candy Hot Chocolate
Something fun, bright and perfect if you have a little girl who loves sleepovers! We love to make this one with white hot chocolate to give it a contrast with the splash of pink!
You Will Need...
A mug of whole milk
50g white chocolate
Pink food colouring gel
Whipped cream
Pink popping candy
Measure out your milk and pop in a pan until warm. Once it starts to warm, stir in your pieces of white chocolate until fully melted.
Once your hot chocolate is nice and hot take off the heat and stir in a squeeze of pink food colouring... keep going until you get your favourite shade of pink!
Pour into your mug and top with whipped cream and sprinkle on your pink popping candy (you can find this in the baking aisle). Pretty, pink and delicious!
Mugs Made for Hot Chocolate