10 Things to Add to Your Baby Keepsake Box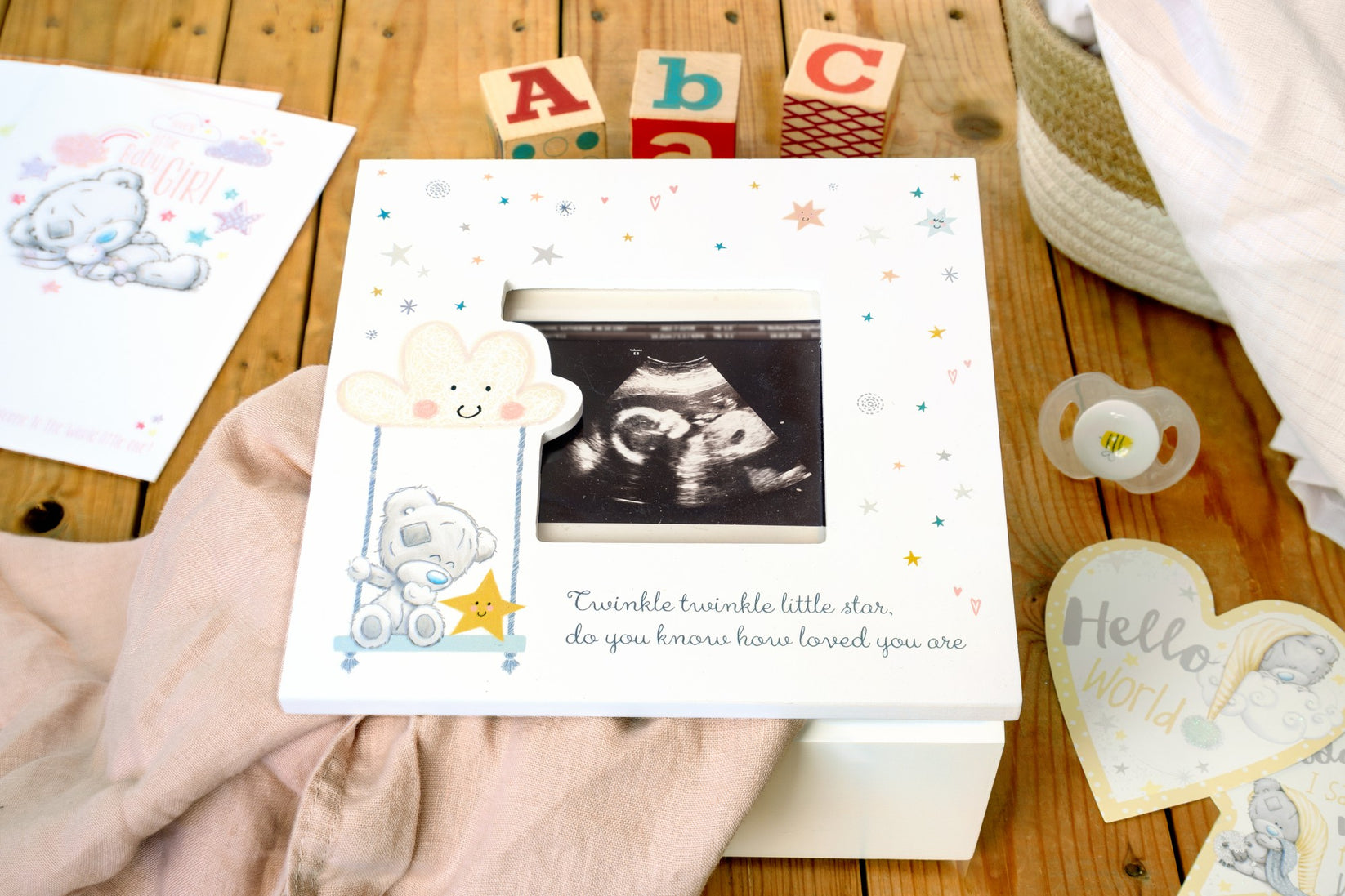 When you welcome a new little bundle of joy into your life you'll realise everything becomes a special keepsake and a treasured memory. A keepsake box is the perfect way to keep these memories safe and sound.
You can record videos and take photos of your newborn but there is no better way to relive the memories as the years go by than to take a look back through a memory box.
We've curated a list of 10 items that you can't forget to include, that will mean more to you in 5, 10 or even 20 years as your baby grows.
1. Scan Photos
The memories from your scans will never fade. From hearing their heartbeat for the first time, seeing them wiggle around and watching them grow, these little photographs will take you right back to these precious first moments.
2. Baby's Hospital Band
Their very first bracelet is the 1st thing your little baby will ever have and will always be a reminder of how tiny they once were. It has some key information including their NHS number, hospital and date of birth.
3. A Special Outfit
This might be the outfit you chose to be their very first, or the outfit they wore when you took them home, but there's always one little outfit that means more to you than the rest.
4. First Lock of Hair
When they start to get a little bigger and start to have a beautiful head of hair, be sure to keep the first lock of hair that gets cut. An old wives tale says that keeping the first lock of baby's hair will always bring them luck.
5. Special Cards
Keep the loving words that your friends and family wrote to congratulate you on the birth of your little one. The perfect way to look back and remember how loved your little one was in those very first days and weeks.
6. Their Birthday Newspaper
A fun idea, so that you can both look back and see what was going on in the world on the day they were born. This is also a lovely thing to keep and give to them on a special milestone birthday.
7. A Letter to their Future Self
When you are putting together your keepsake box, write a special letter for your baby. Let them know how you felt when they joined your family, what your favourite thing is about them, what they do that makes you laugh and what you wish for their future.
8. Foot / Hand Casts
A little cast of their tiny hand or tiny foot is a lovely way to capture how small they were forever. You could even frame them for extra safe keeping.
9. A Selection of Coins
A little pouch with a few coins or notes from their year of birth are an interesting keepsake, and you never know… they could end up being worth a little more in 20 years' time.
10. Your Baby Journal
As well as all the treasured keepsakes from your birth and their first's, your baby journal will also be a lovely way to look back at how you felt when you were pregnant. With details of your appointments, the cravings and your feelings and plans for when they finally arrive.
Whatever you choose to include, your keepsake box will be the perfect way to look back at the special moments you had with your baby in those first years.
We Think You'll Like These...